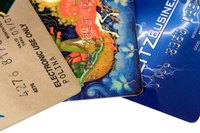 When you buy a product or service, you have the right to expect top quality for your hard-earned money. If the product you buy fails to live up to your expectations, or if the service turns out to be worthless, you should have the right to recover the money you spend. Fortunately there are some ways through which consumers can recover the money they have spent on fraudulent products or services.
Things You'll Need
Review your recent credit card statements and find the original charge for the fraudulent item or shoddy product. Locate the transaction number, the date of the transaction, the amount of the charge and the transaction number.
Call your credit card company immediately and dispute the charge. Be sure to provide the telephone representative with all of the information about the charge, including the date of the charge, the amount spent and the name of the vendor.
Follow up on your phone call in writing by sending a formal letter to the customer service department of the credit card issuer. Be sure to include your credit card number, as well as the transaction number of the disputed charge and the amount of the dispute.
Complete the formal affidavit when it arrives in the mail. The credit card issuer uses this to document the dispute and back up your claim. Be sure to include the reasons why you feel the charge is fraudulent. Some reasons might be shoddy merchandise, that the product never arrived, inferior service, or that the job was not completed.
Contact the attorney general in your state if you did not pay by credit card. If the state has an active claim against the vendor in question, you might be able to recover all or part of your money through the fines and penalties levied against the organization.