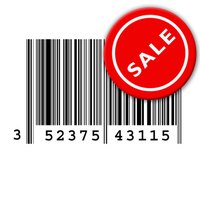 A barcode is a graphical representation of data. This data more often than not contains an item's price points, but barcodes can server other purposes—such as managing mail or deliveries and delivery trucks, among other things. The barcode can only be read by a scanner that interprets the width of the black bars and the spaces between them. Barcode scanners are not cheap equipment and not something the laymen would have lying around their house, but the rise of camera phones and smartphones have turned almost any Internet-connected device into a barcode reader.
Power on the smartphone and navigate to the particular device's application store. The iPhone has the App Store, the Android platform has the Android Marketplace and Blackberry devices have App World.
Navigate to the "Search" function of the application store.
Search for "barcode scanner"—a number of different barcode scanners, some free and some for a nominal fee, are available. Choose the particular application that best suits your needs and download it.
Launch the newly downloaded barcode scanning application. Select "Scan" or "Scan Now" if the scanning interface doesn't launch automatically.
Hold the phone steady and point it at the barcode you wish to read. The barcode scanning application harnesses the power of your phone's camera to read the barcode. Be sure to steady the barcode within the on-screen boundaries. When the barcode has been read, the application will begin to look up the data associated with that barcode.