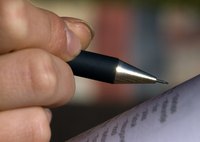 Training seminars boost employee confidence, build employee networks, increase camaraderie, and provide access to skills needed to accomplish goals more effectively and efficiently. In today's ever changing business climate, employees need to be able to do more with fewer resources. Training programs help employees gain new skills or improve those they already have. Designing effective training programs takes time and effort. Programs exist to teach individuals how to identify employee knowledge gaps and needs, as well as how to design programs to address them. However, a few simple steps are all that many need to do the job well.
Identify the training subject and goals of the seminar being planned. Research the particular needs the seminar will be designed to address. The training goal should include information about what seminar participants will gain from attending.
Create a budget and identify available resources for the program. This helps define objectives and create reasonable expectations. Account for everything from materials costs, design time, participant time engagement, the length of the program, training rooms needed, and trainers' fees.
Decide on how long the seminar will be. Planning a three hour seminar requires a different approach than planning a full day or multiple day seminar.
Create learning objectives based on the length of the seminar and the key information being taught. The more detailed you can be about the seminar's learning objectives, the more likely you are to accomplish them.
Decide on the activities and methods that will best achieve the learning objectives. Some learning objectives such as conveying a new hiring process easily translates through lectures. Other learning objectives such as conducting an effective job interview require role-playing, practice and hands-on experience for lessons to have significant benefit for participants.
Create a plan to evaluate the success of your seminar. Knowing what success looks like and having clearly defined measures of success helps those who design programs know what worked and what did not. Program designers should also decide how to evaluate participants.
Evaluate the training seminar after it is completed. Follow-up with participants to find out if they found the program useful and devise a plan to find out if the learning objectives were accomplished.
Use all information from completed seminars to further your understanding of how to create an effective seminar in the future. If several seminars on the same topic or lesson are planned, use each seminar to modify future ones to better accomplish your goals.