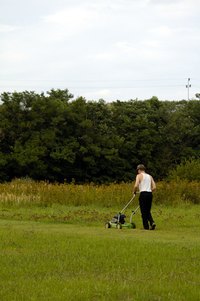 The U.S. government offers multiple thousands of contracting opportunities. These jobs are put in place to provide products and services for the multiple government agencies. The contracts are primarily given to small and medium businesses. Out of the several thousands of contract opportunities, there are tens of landscaping contracts each year. The basics of the bidding process are the same for all contract opportunities. In some cases there are a few additives required to bid and hopefully win. The government bidding process is open to virtually anyone who is properly registered, and can meet the job requirements.
Things You'll Need
Tax identification number
Duns number
Computer
Internet
DBA (doing business as)
Review and solidify your current business status. For starters, you must have a DBA (doing business as) and business structure, i.e., corporation or sole proprietorship. Both can be obtained from your local municipality. A valid TIN (tax identification number) is also required, which is obtainable through the IRS.
Request your DUNS number from the Duns and Bradstreet organization. Your DUNS number identifies your business from a geographic, demographic and economic stance. Your DUNS number is needed to register as a government vendor, which enables you to bid on government landscaping projects.
Register your business in the CCR (Central Contractor Registration) website. The business information stated in steps 1 and 2 will be all the legal information needed to complete this registration. This is done online and will take about 20 minutes to complete. Without registering in the CCR, you cannot move on in the process.
Locate government contracting opportunities through the FedBizOpps.Gov website. Create a new account on the site, which will take less than five minutes. Review the 30 minute site tutorial, which is informative and shows you how to navigate through the site.
Launch an advanced search for landscaping jobs in the geographical area you want to perform.
Choose all the jobs you want to consider bidding on. Print out the SOW (statement of work) attached to each job to review the requirements and specifications.
Pick the job or jobs you want to bid on based on your capabilities and follow the submission guidelines for that contract opportunity. Typical submission guidelines call for a written proposal detailing the your company information, past performance, game plan, and bidding price for the opportunity. Almost 100 percent percent of proposals must be submitted via e-mail and must be signed.