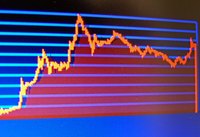 Charting commodity price behavior can give insights into future trends in commodity markets. Many professional traders choose to primarily use charts in their analysis of commodities. If you are trading commodity futures through an online broker, that broker will always provide access to a charting service. StockCharts.com is a free website that offers effective charting tools (see Resources). By combining charts with technical analysis, it is possible to be very successful in commodity markets. Technical analysis is the practice of studying historical price behavior to determine future trends.
Things You'll Need
Charting service
Technical analysis service
Find the commodity you wish to chart on the Chicago Mercantile Exchange, or CME (see Resources). Because the ticker symbols that brokers and services use for commodities can vary, the most effective method to chart commodities is to identify the CME ticker and search it through your broker or charting service.
Enter the ticker symbol and identify a period to view the chart. Typical periods are one year or year-to-date. The chart will display the historical behavior for the commodity. The default view for a chart is described as the "candlestick" view, as a candlestick represents each day. Red candlesticks indicate a day in which the commodity declined in price, while green candlesticks indicate an increase.
Use technical analysis to identify trends (see Resources). Aside from understanding the supply and demand of a commodity, the only other way to identify future trends is to employ technical analysis. Your broker or service will offer a range of technical analysis tools that it can automatically overlay onto the chart. All of these tools are used to indicate the strength of trends.
Apply the Simple Moving Average (SMA). The SMA is a technical analysis tool that allows historical commodity price behavior to be viewed easily. The SMA averages the price of the commodity for a period and is superimposed on the chart as a smooth line.
Select a period for the SMA. Typical periods are 50 days, 100 days, and 200 days. The 50-day SMA indicates short-term trends, while the 200-day SMA indicates long-term trends. Viewing these SMAs will give you a clear perspective on historical commodity behavior and help you identify future trends.