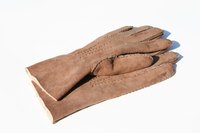 Waterproof gloves are an essential component to enjoying the outdoors during cold, wet weather. Though the waterproofing process is simple, it requires patience and diligence to ensure a successful waterproof seal. Waterproofing your gloves will aid in your ability to experience cold, wet weather without fear of subjecting yourself and your hands to dangerous conditions like frostbite.
Things You'll Need
Gloves
Silicon-based waterproofing spray
Brush off any excess dust or debris from the gloves. Applying waterproofing solution to a dusty or dirty glove will only result in the waterproofing of the surface debris. When the debris falls off or is dislodged, the waterproofing will also be removed.
Dampen a small rag with water. Do not use any soap or detergent, because the oil-cutting properties could potentially dilute the waterproofing solution you will add to the glove.
Wipe the gloves with the damp rag. This will ensure that any unseen dirt is removed from the gloves.
Allow the gloves to dry overnight. Applying waterproofing solution to a damp glove will diminish the effectiveness of the solution.
Apply a silicon-based waterproofing solution to the dried gloves. Work the solution into seams--particularly the seams of the fingers--to ensure maximum coverage.
Allow the gloves to dry overnight again, and repeat the application of the silicon-based waterproofing solution two more times.