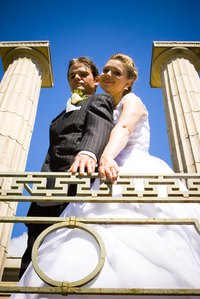 According to the National Association of Wedding Ministers, roughly 2.4 million weddings are performed each year in the U.S. and the average cost of a wedding is $22,000. Because the wedding industry is so large, competition is plentiful. Wedding vendors must advertise in order to publicize their businesses and attract customers.
Choose a name, logo and tagline that are attractive and tell customers exactly what you do. Ensure that your logo reproduces clearly in black and white. Choose a color scheme and print font. Use all of these elements consistently so that customers will be able to recognize your brand.
Build a website for your business or hire someone to do so. Claim a domain name that includes or references your business name. Include pictures that illustrate your services and text that outlines your unique benefits. Write keywords that will drive customers to your site.
Print business cards and leave them on community bulletin boards and in coffee shops and restaurants.
List your business in print and online telephone directories. This basic step will help potential customers in your area find you quickly and easily.
Advertise in publications written specifically for those seeking wedding services. Evaluate the payoff of advertising in magazines such as "Bride," "Destination Weddings" and "Get Married," which reach a national audience. Seek out local publications that will reach your primary audience and where advertising is less expensive.
Advertise on local and national wedding websites. Online sites continue to grow in popularity. At a minimum, purchase a basic listing so that site visitors can find you. If your budget allows, purchase a sponsor listing or banner ad.
Participate in bridal shows and other wedding events. Hand out business cards to visitors. Have samples of your work available for potential customers to evaluate. Purchase small giveaways that include your business name and website address so that visitors remember you later.