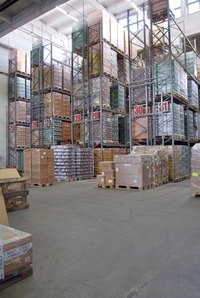 Wholesale businesses are businesses that sell products in bulk. In contrast to retail business, as a wholesale business owner, you earn a lump sum of money every time the bulk goods are bought by retailers. Therefore, this type of business can be quite lucrative if you have a steady flow of customers. Starting a wholesale business is not as hard as many people may think.
Decide whether you want to stock the goods or have them drop shipped to the customers. Stocking products requires you to have a warehouse and a specific amount of capital spent each month for warehouse maintenance. Drop shipping has become increasingly popular due to the fact that it frees business owners from additional costs related to storing products and the risk of unsold goods.
Choose vendors and manufacturers. Pick which products to wholesale. You may want to contact local vendors or look online at eBay to find potential vendors and manufacturers. Choose the products that are hot in the market or have the potential to earn you much income.
Establish a working relationship with shipping companies such as UPS, U.S. Postal Service or FedEx. Negotiate a discount price with the shipping companies so that you can ship the products at a cheaper price than normal. You can purchase your own truck to use for shipping. This is a cost effective option, but it requires you to have big initial investment capital.
Build a website to establish your business' presence on the Internet. Most people today use the Internet to shop. Therefore, it is critical that you have a professional website to advertise your business and attract new customers.
Advertise your products both online and offline. Put ads on your local newspapers and other classified ads service like Craigslist. Advertise your business on eBay and other online ecommerce websites. Participate in forums pertaining to your wholesale business and put links to your website. According to Entrepreneur, as a wholesale business owner your potential customers include: retail businesses, retail distributors, exporters and other wholesale distributors.