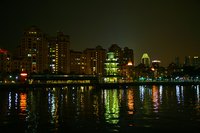 The island nation of Singapore has an international reputation for being one of the most business-friendly countries in the world. In addition to being an easy place to do business, Singapore's government also makes the process of setting up a business fast, simple and straightforward. Once you have created your business plan and chosen a name for your company, you should proceed to work out your financial plan. As soon as these details are in place, you can register your business in Singapore and begin trading once you have the appropriate licenses.
Determine the most appropriate structure for your business. In Singapore, this may be a sole proprietorship, a partnership, a limited liability partnership or a private limited company. You may wish to seek professional assistance with this.
Apply for an EntrePass if you are a foreigner. You can do this at any Singapore post office (SingPost) for S$40. The Ministry of Manpower usually takes about six weeks to process these applications, and you may be granted an extension of your visa if required during this time.
Apply for a SingPass online. You will need this to interact with the government whether you are a foreigner, resident or citizen. You will receive your SingPass in the mail.
Register your company online using the Accounting and Corporate Regulatory Authority (ACRA) Bizfile service. This takes only 15 minutes unless your company requires approval from other government agencies. The cost is S$50 to S$300 for local businesses and S$300 to S$1200 for foreigners, plus S$15 for each business name approved.
Apply for the required licenses and permits that you will require to run your business. These are specific to the industry in which you are operating and the business activities you are conducting. You can apply for licenses online using the Online Business Licensing Service (OBLS).