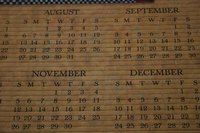 The world is a busy place, and people are constantly trying to keep up with their schedules. Having children can make keeping to a schedule even harder: Between soccer games, ballet and other activities, just trying to keep up with who needs to be where, and at what time, can become overwhelming. Making a weekly schedule makes it easier to keep up. Just remember, what you write on the schedule isn't written in stone. Emergencies and changes come up, and you might have to rearrange your schedule. Even so, a weekly schedule will make life a little easier.
Things You'll Need
Write a master list of important activities in your life, in a notebook or on the computer. Use the materials that are most comfortable for you. The master list will consist of 3 smaller lists:
• A list of all the activities in which you participate. Include times, dates and other pertinent information. If you are in a dance class, list the class times and dates, but remember to add dates for recitals or parties that the group may have at other times.
• A list of the days and times that you work.
• A list of important social events, classes, school events and work-related events that you and your family attend. These are the events and things that you know you have to do.
Create your daily schedule in a notebook or on the computer. Label the top of a page "Monday." At the beginning of each line, all the way down the page, list a time. Start at 6 a.m., and go until 5 a.m. the next day. Get another sheet of paper and repeat the process, but title the page "Tuesday." Make a sheet for each day of the week. If you are working in a notebook, after each day's schedule, leave a blank page for a "Things To Do" list.
Label the top of a sheet with "Things To Do." Draw in 10 blank lines under this label. I know you could put more lines, but most people schedule too many things in one day. If you keep the list limited to only 10 items, you are more likely to complete the list and feel happy. If you put 30 things on a list for one day, there is no way it will get completed, and you may feel more stressed and unorganized. You will need to print one of these sheets for each day of the week.
Place all of the activities off of the master list into the daily schedules. Once you have all the activities that you have to do in the daily schedule, add in some of the things that you want to do.
Print out the daily schedules and "Things To Do" lists. If you created the schedules on a computer, print out the schedules, and staple them together to bring with you. If you did the schedule in the notebook, it's ready to go.
Make sure that you update your schedule on a daily basis to keep from missing anything.