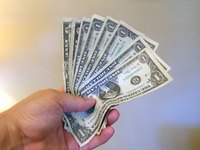 Sending money from the United States to any part of the world, including Norway, is quite simple. There are several money-transfer companies, such as PayPal, Western Union and Xoom that provide simple money-transfer solutions. You're obviously looking for a company with lower fees. Luckily, all three companies have fee calculators given on their websites. You can use the fee calculator to compare fees for transferring funds to Norway. Then you can choose the most inexpensive money-transfer option and send the funds to Norway.
Through PayPal
Go to PayPal's website and click on "Sign Up" from the top of the page. Make a personal account and enter your particulars, such as name, address and email address.
Go to homepage of the website and click "Add Funds" > "From Bank Account."
Enter your checking account's number and bank's routing number. You will find this information printed at the bottom of your check.
Enter the amount you wish to transfer from your bank account to PayPal. It may take a couple of business days for the funds to be transferred. Keep checking frequently and go ahead with the next step when you see funds in your PayPal account.
Go to the website's homepage and click on "Withdraw." Then select the option "Transfer to Bank Account."
Click on "Add bank account." Now enter information of the bank account in Norway or the email address of the person you want to send money to.
Specify how much money you want to send.
Click "Continue." The money will be be transferred from your PayPal account to the Norwegian bank account or the Norwegian email address instantaneously or as soon as you have sufficient funds in your PayPal account.
Other Methods
Calculate Western Union and Xoom fees by going to their websites (see Resources for links). Enter the amount you wish to transfer to Norway and click "Calculate." Choose the company that charges you less for the transfer.
Click on "Register" or "Register Today" on the company's website. Enter your particulars, such as name, contact details etc. Also, enter your bank-account, credit-card or debit-card information. You will be able to transfer money only after you complete registration.
Click on "Send Money" or "Send Money Online." Select "Norway" from the list as the country you want to send the money to.
Select "Direct to bank" or "Bank deposit" as the way for the recipient to get the funds if that's how you want to do it.
Select the amount you wish to transfer and confirm the transaction. The money will then be transferred to the recipient's bank account in Norway.