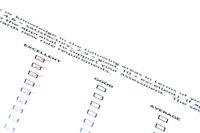 An effective performance management system will evaluate the performance of your employees in such a way as to motivate workers to achieve desired results. The evaluation of your performance management system is a necessary component to ensuring your employees will receive the feedback necessary to do the best work possible. Members of management should review these systems on an ongoing basis to ensure the system works to motivate employees rather than discourage them.
Design evaluation into your system. When designing your performance management system, it is important to identify your desired outcomes. You must then use this information to determine which criteria must be met in order for the system to be considered a success. Finally, determine how you will measure outcomes using your performance management system.

Determine whether your processes and rules are being followed. In other words, are appraisals performed in accordance with the rules you have in place? Are managers executing performance appraisals on a timely basis? Are they basing their reviews on facts and hard data rather than opinions? Use your spreadsheet software to record this information for future reference.

Determine the effects of your performance management system. Does your current system encourage employees to develop their skills? Does the system motivate workers to increase outputs? In short, does your current system for evaluating employee performance obtain the desired results?