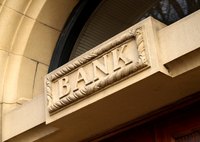 Setting up an international bank account is wise if you travel regularly or work overseas. International bank accounts are also important if you have purchased property overseas. You can transfer money directly into the account from your U.S.-based account and then you can pay for services in local currency. That way, you have no concerns about exchange rates when you purchase goods. ATM withdrawals are usually free, if they are in the country where you have set up your international bank account.
There are no government restrictions imposed on U.S. citizens setting up international bank accounts. However, assets greater than $10,000 held in international accounts bank accounts must be declared to the Internal Revenue Service on your annual income tax return. Dividends and interest received must also be declared.
Things You'll Need
Passport
Proof of address
Choose the country that fits your requirements to set up an international bank account. Choose a country you visit or work in regularly. Ensure that banks are independently regulated; otherwise, your money may not be safe (see Resources).
Choose a bank. Contact the overseas consulate office in the U.S. to check whether it has a representative branch office (see Resources). This is helpful should you have any problems with your account. Note the bank's contact details so you can set up an international bank account.
Apply by mail to set up your account. Call the bank directly or call a representative branch in the U.S. Get the bank to mail you an application packet. Check the requirements. You will need proof of address, passport and income details to set up an international bank account. A deposit will be required.
Complete the application form carefully. Mail the application form, documentation and deposit via secure mail. If the bank has a representative branch located close by, take the forms to the bank in person.
Wait for the account details to be mailed to you. It can take several weeks, depending on local mail services. Your original documents will be returned. Your debit card and checks will be mailed separately, or you can pick them up from your local representative office.