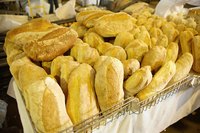 There are a number of things you will need to consider when starting your business. If you plan to operate in Sydney, you will be subject to both Australian laws and the laws of the state of New South Wales (NSW). It is important that you obtain the proper licenses and registrations for your business before you commence trading. The New South Wales Business Licence Information System is a comprehensive online resource for delivering all of the information you need to set up your business in Sydney.
Required Forms and Information
Visit the NSW Business Licence Information System website (see Resources). Find your business type in the 'Start-Up Packages' column and select it, or choose to download the 'General Start-Up Pack' by clicking on it. You will be taken to the 'Browse Licences' page where the boxes for specific forms you need will be selected for you.
Review the list of forms and place a check mark in the boxes next to any other forms or fact sheets that you require more information about. The general start-up pack will default to fact sheets about each required step in setting up your business. Then click the 'Add Selected to Basket' button.
Click the 'Checkout' button on the next page if you are happy with the list of information products you will receive. Select the delivery method you prefer and enter your name, phone number and email address in the boxes provided. Then click 'Go to Confirmation.'
Confirm your order on the next page. If you chose the 'direct download' option, you will be able to download your information packet on the next page by clicking 'Collect Your Information Package.' Otherwise, the information will be emailed, faxed or mailed to you as you requested.
Review all of the information contained in the information packet. You will need to complete a number of forms to register your business and ensure that you have the proper licenses in order to trade. You may also require certification to operate in specific industries and you should consult the governing body for your specific industry to learn what these are.
Register and Obtain Licenses for Your Business
Register your business name. You can obtain a three-year licence for $156 through the office of NSW Fair Trading. Complete the form provided and submit to the Office of Fair Trading.
Register your business as an Australian Company with the Australian Securities and Investments Commission (ASIC). You may wish to seek the advice of a legal or accounting professional before you do this so that you can determine the best structure for your company. If you are a foreign company, you will need to register as a foreign company in Australia unless you cease trading overseas.
Apply for an Australian Business Number (ABN) with the Australian Taxation Office (ATO). As a proprietor, you must also have a Tax File Number (TFN), which you will have already if you have ever worked in Australia. If you don't, you can apply for one with the ATO.
Register for Goods and Services Tax (GST) through the ATO. You are only required to do this if your business has a turnover of AUD$75,000 or more annually or if you supply travel by taxi as part of your business. If you are applying for an ABN, you can do this at the same time.
Determine whether you will hire employees. If so, you will require a workers compensation insurance policy from WorkCover NSW. You will also have to pay Superannuation, which is nine percent of all wages, and register for Payroll Tax and as a PAYG Withholder through the Australian Tax Office (ATO).