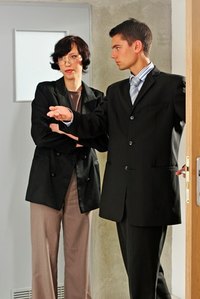 Property insurance premiums vary by state and depends on your specific coverage. According to CompuQuotes, the national average premium for homeowners insurance in 2007 was $822 for a single family home. This insurance protects the physical structure of the property and its contents against name perils or risks such as fire or theft. Property insurance also includes liability coverage for lawsuits if someone is injured on your premises. Without this insurance, an owner could face financial disaster if he incurred a major loss at his property.
Read your policy to understand what is included. Your insurance premium is a calculation of the individual coverage in your policy, and you should be aware of each charge to know what you are paying for. You should have received a policy booklet when your policy started, however, you can contact your insurer to receive an additional copy if you do not have one.
Add the individual coverages together. Although each policy is different, property insurance generally includes dwelling and contents coverage, liability protection and medical payments to others. Each category has a separate charge and the price depends on the limit and deductible for each. The dwelling section covers the structure of the property in case it is damaged due to a covered peril, such as fire. Contents coverage insures your personal property in the event it is lost, stolen or damaged. The liability portion of your policy pays for lawsuits if someone sues you for injury that occurred at your premises and medical payments to others pays hospital bills for people who incur harm at your property. Look in your policy or at your statement and add each individual charge to get a total.
Subtract your discounts. Most insurers offer a variety of discounts to property owners such as multiple policy, no smoking credit, and senior discount. The multiple policy discount occur if you have multiple items insured with the same carrier, such as your car and home. According to MSN Money, over 23,000 house fires occur each year due to smoking cigarettes, and insurance carriers provide discounts if no one smokes on the property. The senior discount is for individuals over 55 years of age. Review your policy to determine what discounts you have and talk to your agent to determine if you qualify for any additional credits.
Factor in your credit score. Insurance companies review your credit rating to determine your property insurance premium and call it an insurance score. The higher your credit score, the less you will pay. Insurance companies do not disclose their specific formula for obtaining your insurance score.