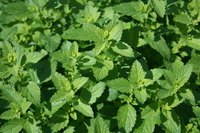 Sugar scrubs are a treat for the skin, polishing away dead skin cells without the drying effects of a salt scrub. Widely available at most department, health and beauty stores and pharmacies, prepared sugar scrubs can be quite expensive. If you love the skin benefits of a sugar scrub, but find the cost a bit prohibitive, try this wonderful peppermint scrub that takes only two ingredients and mere minutes to whip up.
Things You'll Need
Small plastic bowl with lid
Spoon
Measuring cup
1 cup granulated sugar
1/4 cup of Dr. Bronner's Peppermint Soap
Making the Peppermint Sugar Scrub
Measure one cup of granulated sugar, into a small plastic bowl.
Add one-fourth cup of Dr. Bronner's Peppermint Soap to the sugar.