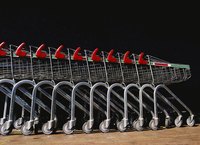 Grocery carts are an ideal place to advertise your business and build your brand. Ads often are placed on the inside of carts so they can be viewed by those pushing the cart. Grocery stores typically enlist the services of an advertising agency to sell these ads.
Contact the grocery store manager where you wish to advertise and ask who handles their cart advertising. If the grocery store currently does not offer grocery cart advertising, ask them to consider it and offer to place your own ad and run a trial.
Call the advertising agency that handles the grocery store's cart advertising and ask what their rates are and what kind of art is needed for the ad.
Design an ad for the grocery cart, or have the agency design it for you. Don't bother with a lot of words or contact information. You'll want an image that gets your product or service across, your name and a phone number or web address. If you own a pizza place, for example, a picture of a mouth-watering pizza will easily get your message across.
Place your ad in the holder given to you by the ad agency if they don't install them themselves, or purchase an ad holder through an online supplier and place your ad there. Attach the ad to the grocery cart, either on the front facing store "traffic" or on the inside facing the shopper. Some ads also are placed on the sides of carts.
Be consistent with your advertising. You probably won't see results from this type of ad after one month. In order to build your brand, you'll need to continually advertise on the carts, plus offer specials to customers of the store and advertise in other areas, like on the store's bulletin boards.