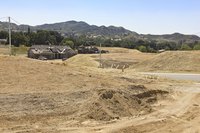 According to Don Webb, author of "Maximizing The Land Ownership Experience," finding land for sale is easy if you are willing to spend time organizing and researching available sites. With the help of Internet and print listings, in addition to seeking the advice of an experienced local buyer's agent, you should be able to find and buy land in the Keystone State.
Things You'll Need
Pinpoint your Pennsylvania search area. Next, write down the features you need from the land. For example, decide approximately how much land you require, and whether you want land suitable for farming or building. Figure out any additional features you need such as fencing, water or woodlands.
Hire an experienced buyer's agent. Find one through word of mouth, in newspaper advertisements or the listings provided by the Pennsylvania Buyers Agents Organization. Interview several agents and select the one that you feel comfortable with. Check that your preferred agent has advanced state licensure, and several years' experience in buying land.
Visit the local planning and zoning office to check zoning laws. Ask if there are any planned road improvements or other schemes that may interfere with your use of the land. Finally, ask about subdivisions and property boundaries. Check there are no deed or other restrictions that prevent you from developing the property or limit the way you can use the land.
Make an offer on a parcel of land that you want to buy. Once the seller accepts your offer, you are on your way to becoming a landowner in the Keystone State.