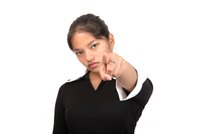 Without customers, you don't have a business. It's easier to keep the loyal customers that you already have than it is to spend money recruiting new ones. For that reason, it is vital to your business that you address all customer service issues that you are made aware of. A quick way to lose a customer is to avoid addressing an issue or negative experience he had with your company. By addressing the issue, you win, the customer wins and your business will continue to thrive.
Speak to the customer directly to ensure that you understand what the customer's issue is. Recite back to the customer what the issue is so that he will have confidence that you understand the problem. The customer will let you know, as you recite the issue back to him, whether or not you hit the bulls-eye or if you are off target. If you are off target, ask the customer open-ended questions until you fully understand the issue.
Write down the customer's issue so you won't forget important details. By taking notes, you will have written documentation that you can refer to later if necessary.
Take ownership of the customer's issue. Act as if you are the one responsible for the problem. That means that you should apologize to the customer about the problem she encountered. Ensure the customer that you are going to take whatever steps need to be taken to resolve her issue.
Provide the customer with an estimated time of resolution. Begin your investigation and research to find a resolution to the customer's problem. During your investigation, if you find that an employee contributed to the customer's problem, be sure to speak to the employee to ensure that the problem does not happen again with future customers.
Contact the customer once the issue has been resolved. By making direct contact with the customer, you can ensure that the customer is satisfied with the resolution instead of assuming that all is well. Making the follow-up call to ensure that his problem is resolved can also give the customer a good impression of your company. It shows that you are not avoiding him and that you are genuinely concerned.
Surprise the customer with something that she was not expecting. For example, a free gift card or product, next meal free or a 25 percent discount on his next purchase. This can also leave the customer with a good impression of your company. It's a kind gesture that says "We appreciate you as our customer."