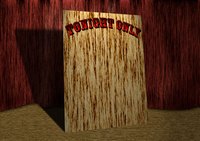 Your promotional material should never be just good enough; there is too much good-enough promotional copy in the marketplace. For promotional material to achieve its objective, which is to trigger a consumer's purchase impulse, it must stand out above the rest. To the overly bombarded and jaded public, your sales pitch must be better and different. Following a few guidelines can help you product more effective promotional material.
Rethink your approach. Don't rack your brain trying to think up some clever new word or phrase to attract buyers. They have all been used ad nauseam. Instead, analyze your customers' purchase psychology.
Try to identify what caused someon to select what she bought. Depending on the customer's situation (i.e., if she is in a hurry to leave), try asking her what prompted her purchase. Write down the answer in two or three words. Repeat these two steps to formulate a general theme about buying habits associated withe product you're promoting.

Write down the five or six most common reasons from your surveys. Separate them into two categories: Fear and pleasure. These emotions often drive purchase impulse. People buy out of the fear if they believe the product or service is scarce. They buy for pleasure when they perceive a concrete or intangible value.
Design promotional material around these two powerful motivations. Do not choose one or the other. Incorporate both to build and develop an irresistible sales proposition. This strategy is the key for many success marketing campaigns.

Remember, you have roughly three to five seconds to grab a buyer's attention. Write and design your promotional material to be media-friendly. Use visually communicative graphics or pictures--especially pictures with unusual or unexpected movement--to capture consumer attention. This starts the potential sale process.
Keep the buyer's attention by strongly appealing to those central buying emotions. Show them the pain that will be avoided and the pleasure derived from your product or service. Write your copy to convince them quickly and firmly that their lives will be much better with this purchase.

Add urgency to your sales pitch. Explain the exceptional opportunity consumers can capitalize on and realize value. Provide information about where customers can purchase your item and highlight its comparative advantages. Avoid overused phrases like "ridiculously low prices" and "don't be foolish by passing this up." Respect your audience's intellect.