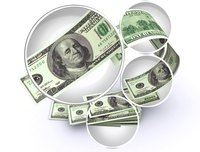 Getting money to friends and relatives in Jamaica can be as straightforward as calling your bank, walking into a Western Union or MoneyGram location, or signing up from anywhere with an online wire transfer company like PayPal. The main differences between these three options involve transaction fees and the locations where you and the recipient want to be when you send and he receives the money.
Things You'll Need
Bank account
Credit or debit card
Cash
Computer with Internet
Call your bank to set up a wire transfer. To authorize this transaction, you will need to provide contact and banking information for the recipient, personal identification such as your driver's license and social security card, and a signature. Bank fees vary for wire transfers to Jamaica.

Use MoneyGram or Western Union if you don't have a bank account. Both accept cash. Present your cash and a transmittal form (provided for you at the service counter) containing the name and contact information of the person receiving the money. You will find service counters in supermarkets, gas stations and pharmacies around the country. To find one near you, go to WesternUnion.com or MoneyGram.com. Minimum wire transfer fees for both MoneyGram or Western Union range from $4.95 to $9.99. Maximum fees depend on the amount of money being sent.

Save money and time by sending money through an online wire transfer service. While your bank, Western Union and MoneyGram offer online wire transfer options, PayPal charges less. If you sign up for a free PayPal account and fund your transfer with a credit or debit card, you'll pay 3.4 percent of the total transaction plus 30 cents. PayPal charges no fee if you have a PayPal account and use it or your bank account to fund the wire transfer. Once you have set up a free account at PayPal.com, look for its "send money" link to get started with your wire transfer.