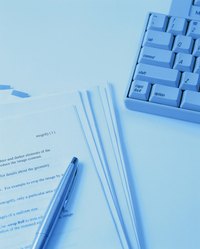 Limited liability companies (LLCs) are business entities created according to state business corporation laws. The Internal Revenue Service (IRS) does not recognize an LLC as a business entity when it comes time to file taxes for the LLC. For this reason, an LLC must file as a recognized business structure for it to properly file taxes. A common business structure is a closely-held corporation, also known as an S-Corp. S-Corps receive favorable tax status, especially in terms of payroll taxes and self-employment taxes.
Things You'll Need
Articles of Organization (state-specific)
IRS Form SS-4
Form your LLC according to your state's business laws. Typically, you must file a document called the "Articles of Organization" with your state's business corporations division. This document lists basic information about the business (such as the business name and address and the members names and addresses).
Obtain an Employer Identification Number (EIN) from the IRS. An EIN is a way for the IRS to track your business and identify it for tax purposes. It is free to obtain. Fill out IRS Form SS-4 and send it to the IRS; the IRS will assign an EIN for your LLC.
Elect to become an S-Corp for tax purposes. Having formed your LLC in your state and now armed with an EIN, you can file your LLC with the IRS as an S-Corp by filling out Form 2553. No fee is associated with this form. Send the completed form to the IRS.