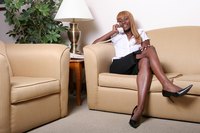 Selection criteria statements are often required for high-level job positions, especially in universities. Most job qualifications are considered essential, while others are only desirable. In your statement, address all of the selection criteria required for the position, especially if they are essential. This proves that you are qualified for the job. Turn in your selection criteria statement with your job application to show how hiring you is a good choice.
Things You'll Need
Read the job description for the position to find the selection criteria. Most careers that require a selection criteria statement list what they require, whether essential or desirable. If these aren't listed clearly, contact the hiring office and ask for the criteria required for the position. Examples include years of experience, certifications and verbal communication skills.
List each selection criterion and how you qualify on a piece of paper as an outline. You'll need to qualify for each essential selection criterion to gain the position. This helps you formulate your answers. If you don't qualify for every criterion, you may want to avoid applying for this position.
Start a selection criteria statement in a word processing program. Type "Selection Criteria Statement" at the top of the page in a large font. List the position you're applying for on the line below the heading. Put your contact information under this just in case the selection criteria statement gets separated from the job application.
Type each selection criterion separately in your statement. In a new paragraph under each qualification, write how you qualify. According to the University of Tasmania, Australia, start each statement with a positive claim followed by a specific example of your qualifications. In response to an "accounting experience" criterion, answer with a claim such as, "I used my mathematics education and my certification in public accounting to help clients finish their yearly taxes at my previous position. This includes using my knowledge of relevant state and federal tax codes to give clients the highest return allowed by the government."
Proofread your selection criteria statement, looking for typos and grammatical errors. Ask a friend or family member to look over the statement to find any errors you missed. When satisfied with the results, print out a copy. Bring this to your job interview along with the job application and your resume.