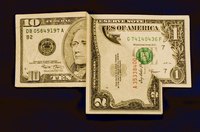 Individuals who spend money carelessly and allow debt to accumulate are soon out of control financially. Budgeting is crucial to gaining control of your finances. One way to manage your money efficiently is to use a preprinted financial worksheet, available online or at office supply stores. Financial worksheets help you categorize your expenses and income in a logical, organized manner. Once you categorize and track your finances, you can better plan where your money should go and how to use it best.
Things You'll Need
Budget worksheet
Calculator
Write or type in your monthly income in the appropriate area on the worksheet. Some sheets have a section for total income only, whereas others break income down into categories, such as salary, child support and miscellaneous. Fill in specific categories, and total them in the space provided.
Write or type in expenses that are constant from month to month. These expenses include categories such as rent or mortgage, automobile payments, tuition and child care.
Track your expenses that are subject to change for a month, and write or type them in the appropriate categories. These expenses might include things like utilities, groceries, gas, eating out, clothing or medical expenses. The objective for this first month of budgeting is to see how you are currently spending your money, so record everything. Keep receipts during the day and record all expenses as soon as possible. For expenses that you pay quarterly or annually, estimate the monthly portion of the expense and record it on your sheet.
Analyze your worksheet after the first month to see if your expenses are exceeding your income, which leads to debt and financial problems. If so, determine which expenses are necessary and which ones aren't. For instance, you may pay a certain amount per month for medical expenses, but you could cut your gas expenses by carpooling to work. If your current living expenses do not exceed your income, then use the excess to pay down debt, concentrating on debts with the highest interest rates first.
Set goals for your expense categories for the following month after your review of the financial worksheet. For instance, you may decide to spend only $300 on groceries rather than $500. You also might choose to cut your entertainment budget in half, in order to stay within budget.
Set a goal for saving money. Once you have your day-to-day expenses under control, you should save money, if you aren't doing so already. Saving prepares you for future unexpected expenses, as well as major events, such as college for your children and retirement for yourself. Add a saving category to your financial worksheet, if necessary.
Review your financial worksheet monthly, making additions or adjustments when necessary.