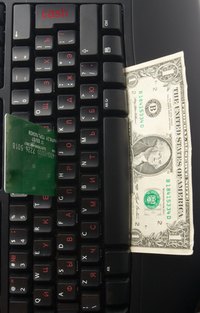 The letters "ACH" stand for "automated clearing house." An automated clearing house allows business owners and creditors to retrieve funds directly from a customer's bank account without accepting or depositing a paper check. This system works similarly to common credit card processing systems and is subject to the security regulations set forth by the National Automated Clearing House Association. Many online business owners offer ACH payment solutions to their customers who may not have a credit card or an available balance to complete a transaction. Since funds come directly from the customer's bank account, an ACH payment acts as an online equivalent to paying in cash.
Select a merchant services provider, such as ACH Direct, Key Bank, Web Transaction Services and Check Gateway, that offers ACH processing or electronic funds transfer options. You may wish to check with the bank that services your business accounts; some now offer ACH services as well. Shop around and compare transaction fees among service providers.
Complete an application for an ACH merchant account. You may be asked to provide your business's registered name and address, your entity status, a brief description of your business, how many employees you have, how many years you have been in business, whether any of the owners have filed for bankruptcy, and the anticipated number of ACH transactions your business will submit each month. You will then have to decide how to implement your ACH account, whether you integrate your ACH solution into your website or enter transactions manually.
Consult with your merchant service provider and web programmer to choose and set up a method of implementation. If the majority of your sales are made through a website, consider integrating your ACH payment solution into your website. If you have a service company that does not rely on a website to complete sales, manual processing should suit your purposes.
Insert specific coding into your site to set up an integrated ACH method. This allows a customer to pay for a product directly through your site the same way she would if she were using a credit card to complete the transaction.
Set up a manual processing system with your merchant service provider. This method allows the business owner or manager to manually type the client's bank account and routing number into a secure online portal located on the merchant service provider's website.