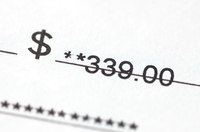 Checks are common forms of payment in the United States. There may be occasions, however, when you may need to cancel a check before a vendor or individual presents it for processing. To cancel a check, you will need all of the information about the check and contact information for your bank. Keep in mind that canceling a check can be expensive, so always speak to a bank associate before finalizing any stop payment.
Things You'll Need
Check information
Payee information
Gather the information about the check that you wrote and now want to cancel. The bank will ask you for bank account information, check number, the amount, the date your wrote the check, the name of the payee and your contact information.
Go to the local branch of your bank. You can also call your bank, but make sure that you call your local branch or the branch that issued you the checks, as associates at that bank will be the ones to process the stop payment.
Confirm that you want to stop payment. Depending on your bank, you may have to pay a fee to stop the payment on the check. In some cases, the fees can be almost as high as if a payee deposited your check and your account had insufficient funds. Speak to a bank associate to make sure that stopping payment is a good and necessary step.
Contact the payee, especially if he is someone with whom you regularly do business. Keep in mind that that if you don't contact him and let him know that you stopped the check, he will assume that the check is valid and will try to cash it.