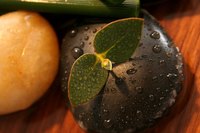 Wellness products are developed and marketed to aid people with consumption of nutrients, vitamins, minerals or other natural ingredients found in fruits and plants to supplement their current food intake. Some products even offer benefits to skin, hair, libido and other bodily conditions. Wellness products can be sold through retail or wholesale avenues in a physical storefront or an Internet website. Marketing can be print, Internet or direct marketing, also known as word of mouth marketing. Combine all three methods for the most impact, though direct marketing is the focus here. Stay persistent and ask for testimonials and referrals from existing clients to build your sales funnel and achieve success.
Use the product you are going to sell. If you have not tried the product, it will be harder to stand behind it when you are attempting to sell to a prospect.
Identify your target market. Make a list of prospects you can sell to immediately. Include family, friends, acquaintances, previous work associates and colleagues.
Create a list of product benefits that captures the attention of your prospect. Include success stories that highlight or correspond to the particular benefits you describe. Delivering powerful stories improves your ability to complete the sale. Collect case studies or clinical research explaining any tests completed on the products you are selling. The tests should touch on the nutraceutical efficacy (pharmaceutical effectiveness) of the wellness product. The scientific research should bolster and add merit to the success stories you have presented. This research can typically be found on the official website of the wellness product. Other studies may be published in medical journals or magazines that present information on fitness, nutrition and health. Research articles collected from the Internet are also viable if presented with credible sources.
Ask existing clients for testimonials indicating the positive changes they have felt from using the products you have sold them. Request referrals to their personal and professional network of individuals who would be able to use the products you are offering. Continue to keep in touch with your clients through a nutritional newsletter. Update your clients with new research, results, benefits and developments about the products they are using. Suggest they forward the newsletter to family, friends and people they care about. These are potential clients who could end up buying your products just from reading the newsletter.
Join a networking organization in your community. Examples of a networking organization are a local Chamber of Commerce, a rotary or service club, or a hard networking group where only one profession is allowed per group. Build your network by attending social events and workshops. Ask those in your network who are not currently your clients for referrals to individuals they believe would find value in your products. Be specific when you ask for an introduction to a prospect. If you want to sell your product to pregnant mothers, make sure you let your contact know this. A name might just come to mind immediately. The more work you put into your network, the better your results.