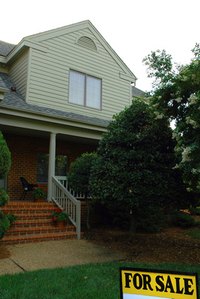 In a competitive real estate market, you need every possible advantage to sell your home quickly. This is especially true if you've already relocated and left behind a vacant house. According to a Coldwell Banker Residential Brokerage study, your home may sell twice as fast if you stage it. An empty interior looks sterile in photographs and appears smaller than it actually is when there is no furniture to show the scale of the rooms. You don't have to hire a professional stager, spend a fortune or even fully furnish your home. A few inexpensive pieces can warm up the space so buyers can imagine themselves settling in.
Things You'll Need
Lightweight furniture
Household linens
Artificial plants
Cardboard boxes
Solid colored bedding
Table settings
Take stock of free staging items—the ones you (or your friends) already own and can do without temporarily. But be careful about using castoffs—you don't want your home to look shabby. Set up a table and folding chairs in the dining area, spruced up with a bright tablecloth and chair covers. Move in a loveseat draped with a cozy afghan, paired with a small table, for the illusion of a full living room setting.

Peruse dollar stores, thrift stores, yard sales and websites such as Craigslist.com to find inexpensive props. Crisp placemats and napkins, artificial greenery and a few shiny cookbooks make a big difference in the feel of a home, increasing your chances of selling more quickly.

Paint the walls to create a clean interior and new-home smell. With the house unoccupied, the job will go quickly and requires only minimal expense. Paint stores and home improvement stores often sell "mis-tinted" paint at clearance prices; the exact color doesn't matter as long as it's a neutral shade.

Create a remarkably realistic bed from cardboard boxes, which you can buy from moving companies, or better yet recycle from your own stash. Simply tape the flaps down, lay the boxes side by side and hold in place with duct tape. For a bedskirt, fasten a length of fabric to the boxes using carpet tacks. Throw on a comforter and lots of pillows. Finally, add a smaller box for a bedside table, top it with a lamp, a plant and mug and you've warmed up the space.

Remember the deck or patio: your home will sell more quickly when buyers can envision themselves relaxing with the newspaper and a cup of coffee in a beautiful outdoor setting. Invest in a new lawn chair and a planter full of flowers to create a peaceful mood.