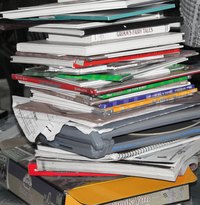 The amount of paper that comes into a home can be overwhelming. You find yourself with a mountain of mail coming in every day, a stack of newspapers waiting to be read, schoolwork that needs attention and magazines cluttered throughout the house. This paper collects on countertops, dining room tables, cars, dressers, drawers and desktops. Control this chaos by setting up a system to contain and organize the paper.
Things You'll Need
Baskets
Files
Filing cabinet
Set up an in-basket. Place the in-basket close to the main entrance of your home. Plan to put all incoming papers in the basket. Leave the papers in the basket until you have time to sort and organize them. Place incoming newspapers and magazines in an area where they will be read, such as a coffee table or night stand.
Schedule a regular time to organize the papers. Make it a daily or weekly habit.
Quickly sort the papers in several piles, such as to-be-filed, recycled, redistribute, action-needed or priority.
Set up a filing system to organize the papers that you are keeping. These files need to be clearly labeled and stored in a filing cabinet or container. The papers to file are tax returns, warranties, bank statements, insurance policies, car titles and health records.
School papers need to be checked daily. Sort the papers and sign permission slips. Add events to the calendar. Place flyers announcing events in a pocket holder near the calendar. Use a binder or basket to store school papers that are finished. Sort the school papers at the end of the school year and only keep the favorite ones.
Create a three ring binder to store recipes. Insert the recipes into plastic sleeves. Organize the recipes by categories with tabs in the binder.
Recycle newspapers and magazines weekly. For articles that you want to read, tear them out of the magazine and keep in a basket by your favorite reading chair.
Use three stacking organizing trays to sort the mail. Label the trays: priority, bills to pay and filing.
Set up a coupon organizer to sort and store coupons. At the end of each month, recycle coupons that have expired.