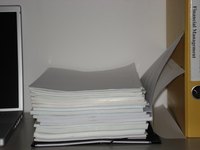 By updating, saving, storing and sharing documents, employees working on a project can access the latest information. Management of documentation is also key to ensure that project team members are not duplicating work, so that projects get completed more quickly and efficiently.
Establish a date stamped file naming format. On busy projects documentation is updated daily and documentation can be lost if not named proper, by establishing a date stamped file name saving format team members can find the latest project documentation. The format would use the year, month and day the document was last saved: "filename-YYYYMMDD.ext". An example of a document with a last save date of June 19, 2010 would be saved as "filename-20100619.ext". If documents are edited and saved multiple times a day, add a time stamp to the file extension; according to Fossil-scm.org, time stamps can be added to the date stamp as follows: YYYYMMDD-HHMMSS; HH for the hour, MM for the minute and SS for the second.
Save documents in the same folder locations. Saving documentation in same folder with a file-saving format will enable team members to gather the latest documentation to edit or review.
Have one person update documents. If team members are not able to properly follow the file-saving format or are constantly losing document updates, having one person update documentation can solve this problem. The process would be for all document updates to go through one assigned individual who would collect and update all documentation for team members to review.
Organize documentation by project phases. Projects that run for an extended period of time have multiple phases, so organizing documentation to match project phases is an effective document management method.
Organize documentation by project requirements. Complex projects have significant requirements, so managing documentation based on project requirements will help organize project documentation based on requirements. Establish within the project folder the various product requirements and place your supporting documents in those folders, and sort the documents by the file-saving format.
Use software to manage project documents. Managing documentation manually can be overwhelming due to the amount of documents to update, the various naming conventions and locations. Using software to manage project documentation can be easier as the software will manage the revisions, illustrate updates and ensure documentation is not being updated at the same time. Document management and collaboration software examples are Microsoft SharePoint for mid to large businesses; Aconex for construction and engineering projects; and OpenDocMan for free document management.
Back up documents regularly. Part of document management is ensuring that documentation is backed up regularly. Backing up your documents ensures that even if documentation is lost, it can be recovered.
Secure documentation with various access levels. Part of document management is securing documents from various users by providing levels of access to read, write, delete or all three. This access level can be established within the document by saving the document as read, read and write. This saving function is done by using the "Save As" function within the document.