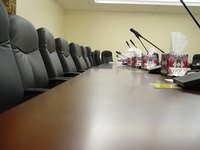 Because PowerPoint is so easy to use, it has become the standard tool for meetings, presentations, reports, slide shows and numerous other communications needs. However, PowerPoint is really intended for facilitating presentations. To ensure that you are giving appropriate feedback on PowerPoint presentations, a formal written evaluation is the best tool. Follow these steps to create a thorough evaluation of a PowerPoint.
Things You'll Need
Computer
Word-processing software
Paper
Create an evaluation form on your computer by creating a table with three columns and five rows. In the top of the columns, write "Category," "Area" and "Comments." In the rows, under "Category" enter "The Message," "The Audience," "The Presenter" and "Supporting Materials."
Write the following evaluation questions in the rows under "Area," next to each of the four row categories you just created:
Next to "The Message," type "Has the presenter made the presentation a story?" and "Has he asked the audience to take action?"
Next to "The Audience," write "Does the presenter interact well with the audience (anticipating questions, listening to and answering same)?" and "Does the presenter read the body language of the audience well?"
Next to "The Presenter," write "Does the presenters voice and body language show congruence with the message?"
Next to "Supporting Materials," write "Does the presenter use the media in an imaginative way to support the message?" and "Does the Presenter use demonstrations?"
Print several copies of your evaluation form to have with you when you go to write your actual evaluation. Make sure that the rows and the "Comments" column are large enough to write in.
Take notes during the presentation, keeping in mind the questions on your evaluation sheet. Monitor all the aspects of the presentation, including the audience's reaction as well as the mannerisms of the presenter.
Fill out your evaluation sheet once the presentation has concluded. Using your notes, you will be able to enter comments that answer the questions that you included on your form.