The interior of your Florida home should feel just as relaxing and look just as beautiful as the state itself. Take inspiration from tropical decorating styles and interior design trends to create a home suited for hot and humid weather. Traditional Floridian elements blended with touches of modern decor create a look and feel perfectly suited to living the tropical beach life to the fullest.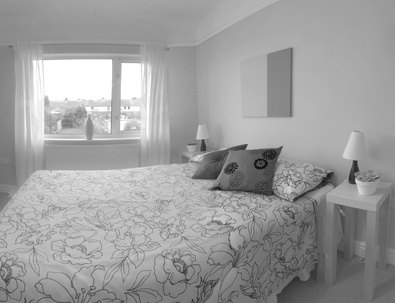 (bedroom image by david hughes from <a href='http://www.fotolia.com'>Fotolia.com</a>)
Things You'll Need
Interior design articles

Interior design photographs

Neutral interior paint

Bright interior paint

Rattan furniture

Sheer fabrics

Sail shades

Wood decorative elements
Wicker decorative elements

Bamboo decorative elements

Seashells decorative elements

Mother of pearl decorative elements

Wooden blinds

Plantation shutters

Lightweight fabrics

Valances with fun prints
Step 1
Create an inspiration board with interior design clip articles and photos that appeal to you. Consult interior design magazines geared toward the tropical, coastal lifestyle. These publications highlight interior design trends and provide fresh decorating ideas for your Florida home.
Step 2
Mimic the colors of the outdoors. Florida's natural elements contain shades of bright blue, green, coral, turquoise, cream, and white. Use neutral interior paint colors, such as creamy white or sandy tan, on the walls and accent the spaces with splashes of bright colors. Add accent pillows, artwork, lamps, and curtains featuring these bright, lively colors.
Step 3
Add design elements that suit the weather in Florida. Borrow ideas from other tropical climates, such as the West Indies. West Indian homes use rattan furniture to promote the flow of air, sheer fabrics on windows to filter sunlight and high beds that are closer to windows to catch breezes. Use sail shades to decoratively block out the harsh sunlight.
Step 4
Incorporate design pieces that mimic Florida's natural elements. Decorate with wood, wicker, bamboo and seashells. Mother of pearl is another beautiful material that matches any tropical color palette.
Step 5
Play up your windows. Opt for wooden blinds or plantation shutters paired with lightweight fabrics. Valances with fun prints, such as anchors or seashells, lend a sense of playful style. Avoid heavy, dark, draping styles, as they are contrary to a tropical decor.
Tips & Warnings
Add fresh, tropical flowers to every room in your house. Flowers add a fresh look and feel to both indoor and outdoor rooms.
To avoid having your home look like a typical, dated Florida home, avoid the many kitschy, tropical-themed design items available in tourists shops. Stay away washed-out, pastel flower prints; bleached-wood furniture; and run-of-the-mill bird and beach-scene artwork.
Promoted By Zergnet