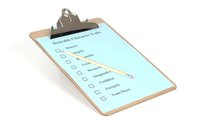 Becoming a good trainer requires patience and the ability to customize the training approach to the individual. Trainers that use identical training strategies to teach every new trainee have limited success rates that never improve. Good trainers are guided by an understanding of the trainee's situation reached by paying close attention to both verbal and nonverbal feedback. Be a good trainer by becoming a source of information and motivation that meets the needs of each person.
Things You'll Need
Word processing software (Microsoft Word, OpenOffice Writer)
Printer
Get to know the person you are training by asking them a few questions about where they are from and what their level of experience is in the areas you will be training them on. Listen closely to each answer and takes detailed notes.
Compose a master list of all the activities the training will include using a word processing program. Organize the list so the easier tasks are first. Break up more complex procedures into multi-step plans.
Select the training items you intend to accomplish for the day from the master list and print a daily training list. Formulate a list based on the information in your notes about the trainee's level of experience. Provide the trainee with a copy of the daily list at the beginning of the day's training.
Work through the daily training list one item at a time asking the trainee to initial your copy when they fully understand a procedure. Quickly quiz the trainee to make sure they fully understand the activity before they initial the list and move on.
Interview the employee at the end of the training day to see if they have any questions or suggestions on how you can be a better trainer. Let the person you are training know that any items on the list that were not covered that day will be on the list for the next day of training.
Print a daily training schedule before each session that is based on the performance of the individual trainee in prior training sessions. Trainees who excel and move quickly through the program will give you more time to focus on those who need extra guidance.
Hold an exit interview when the master training list has been completed and each item initialed by the trainee. Ask the trainee what they learned and where they feel they need to improve. Review the training with them and ask them to perform what they were trained to do without any help from you.