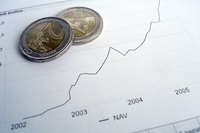 Investing on margin is a common tool used to increase a buyer's purchasing power and to leverage existing stocks to buy more securities. Margin lets an investor buy more securities than he has the cash for; the rest is lent by the brokerage firm as a margin loan. If you own an investment account, you should be able to set up margin on your account in order to purchase mutual funds. There are several benefits of buying a mutual fund on margin, including an increase in purchasing power and the need for less upfront capital.
Things You'll Need
Investment account with margin
Confirm that you have margin set up on your account. Most brokerage firms offer margin as an option to investors. Contact your brokerage firm, or your online discount broker if you have a self-managed account, to add margin if you do not already have it. Additionally, some brokerage firms require a minimum $2,000 balance before they allow trading on margin.
Choose a mutual fund to invest in. Be sure to choose a mutual fund that is right for you and your investment objectives. There should not be any limitations on the types of mutual funds that you can buy on margin. Just be sure the fund is trading above $3 per share, is listed on a national stock exchange and has been actively traded for longer than 30 days. Consult with an investment adviser if you are unsure about which mutual fund to choose. When searching for mutual funds, they usually have five letters in the ticker symbol and end with an "X."
Purchase the mutual fund on margin in your account by using either a personal stock broker or an online self-managed account. Be sure to specify "margin" when purchasing. If you have your own on-line brokerage account, you will be able to select margin when purchasing. If you use a stock broker, tell him you want to purchase the mutual fund on margin. You will need to have free cash available in your account before making the purchase. Buying on margin means that you only need to pay for 50 percent of the entire trade when you make the purchase. This is called the "initial requirement." The rest of the money is "lent" to you by the brokerage firm at a low interest rate.
Monitor your account frequently after the purchase. Brokerage firms and the federal government set requirements on margin accounts. For example, a mutual fund bought on margin cannot drop in value past a certain point or else a margin call will be issued and you will need to deposit additional funds to your account. According to the Financial Industry Regulatory Authority (FINRA), a customer's equity cannot drop below 25 percent of the original market value or a margin call will be issued. After the purchase, the money lent to you by the brokerage firm, which is usually 50 percent of the total purchase, is called the margin debit. Theoretically, you never have to repay this margin debit as long as your account stays in good standing and you don't sell the mutual fund.