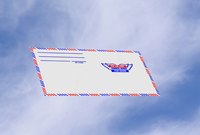 According to a U.S. Postal Service report, the postal service processed over 40 million pieces of mail in the first quarter of 2010 alone. Given the sheer volume of mail, some items will inevitably be misplaced or undeliverable.
Undelivered mail can result in problems for the sender if he doesn't realize that his communication never reached its destination. When you send certified mail and attach a return receipt, however, the recipient of your letter or package must sign a signature card that will then be returned to you. You can rest easy knowing that your communication was delivered properly.
Take your letter to the post office and request certified mail services. The postal employee will affix a certified mail label to your letter or package.
Request return receipt upon delivery. Return receipt services are not automatically included with certified mail items. When the postal worker asks if you would rather receive a postcard or an email confirmation, opt for the postcard. The return receipt postcard is PS Form 3811.
Fill in the name and address of the recipient in the box labeled "Article Addressed to:" on the front of PS Form 3811.
Copy the article number from the certified mail label on your letter or package into the box labeled "Article Number" directly beneath the recipient's name and address on the front of the form.
Mark the "Certified Mail" box under "Service Type" on the front of the form. If you requested restricted delivery along with a return receipt, mark the "Yes" box next to "Restricted Delivery." It's located directly beneath the "Service Type" box.
Write your name and address in the box marked "Sender" on the back of the form. Include your nine-digit ZIP code.
Peel off the vertical self-adhesive strips on the back of the card. Affix PS Form 3811 to the front of your letter or the center of your package.