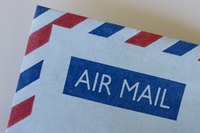 Whether you are sending a letter to a pen pal or a package to your child who is abroad, mail sent from the United States to the United Kingdom must be sent by airmail. Airmail costs more than the average package or letter and will vary based on the size and item being shipped.
Package the item in an envelope or box. Make sure it is tightly packed and all seams are taped shut.
Write "To" followed by the address of the recipient on the front and center of the box. Be sure to write "United Kingdom" at the bottom because it is going out of the country.
Write "From" in the top left corner of the package followed by your American address. Be sure to include "United States" at the bottom because the package is leaving the country.
Visit your post office. Fill out the air mail form that verifies what materials are in the package. There are certain restrictions to mailing packages. Be sure to inquire with the post office employee if you are concerned about any problems.
Weigh the package and send via airmail. There will be two different options. One option will take weeks for the recipient to receive the package,while the other may take only a few days. There is a large price difference between the two.