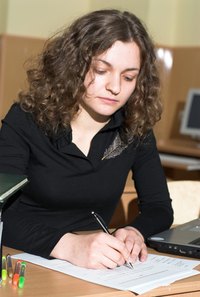 People in business must often write persuasive letters. They may wish to persuade a vendor to provide a lower price or another company to co-sponsor an advertising campaign. Most often, business letters are intended to persuade a potential client to purchase the company's goods or services. Regardless of the audience or the intent, all persuasive letters must persuade someone to do something.
Format your persuasive letter as you would any other business letter. Include an address block for your company, unless you are writing on company letterhead that already bears the company's name and address. Date the letter. Then write the name and address of the person to whom you are writing the letter. Begin the letter by saying "Dear Mr. Client" or "Dear Client Company." Include a signature space at the bottom.
Introduce your business in the first paragraph. Briefly explain who you are and what you do. Present your company in a way that shows your value rather than just your function. For example, say, "Supergreat Company helps clients grow their bottom lines by decreasing their waste removal expenditures" rather than "Supergreat Company is a trash company." Keep this section to two or three sentences.
Explain what you want the reader to do (allow you to make a presentation, lower your rates, etc.). Be specific. Say, "I would like to arrange a 20-minute personal meeting for us to discuss our product offerings sometime in the next two weeks" rather than "I'd like to talk to you sometime about what we have to offer."
Explain why you want the reader to do why you're asking. Be specific about why you are asking him, even if you are sending out letters to many companies all at once. "I think our companies would be a good match" sounds generic. A better choice would be: "Since our company specializes is plastics and your company uses plastics in 80 percent of its products, we may be able to solve a real need for you."
Explain how the reader will benefit from doing what you want them to do. Again, be specific. Prove your case with verifiable examples when possible. "Past clients have saved an average of 30 percent on their monthly waste disposal expense and, based on our research, we believe we could find similar savings for you" is more persuasive than "We'd like to save you money."
Close your letter by thanking the reader for her time and offering an opportunity to follow up. For example, you might say: "Thank you for your time and attention. I'll call you next week to follow up, but please feel free to contact me if you'd like to discuss the opportunity sooner."