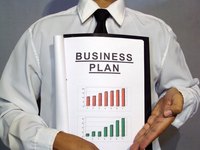 The success of a business plan often relies more upon the manner with which its information is presented, rather than the quality of the information it contains. Hundreds of brilliant business ideas go unnoticed because the plan's originators are incapable or unwilling to present them adequately. Making a simple business plan presentation follows the same basic principles of making a basic presentation with an added emphasis the persuasion of your audience members to appreciate and invest in your business idea.
Things You'll Need
Identify the elements of your business plan you wish to highlight in your presentation. As most presentations of a business plan are to potential investors, you should highlight the mission statement, business structure, sales strategy and market analysis elements from your plan. Doing so will demonstrate the thoroughness of your analysis and preparation.
Generate an attention-grabbing introduction for your presentation. According to Colorado business professor Erick Mueller, elements such as questions, quotes or visual aids often appeal to your audience's interest and get them involved in the presentation.
Transition from your attention-grabber to a concise outlining of the structure of your presentation. Tell your audience exactly what they can plan to learn about in your presentation. This should include the previously highlighted elements of your business plan.
Segue into the content of your presentation with transitional statements. For example, when transitioning from a discussion of your mission statement to your business structure, you could say, "now that we understand the mission of the proposed business, it is important to understand how the company will be structured in order to succeed at that mission."
Transition into the conclusion of your presentation. Repeat to your audience exactly what they have just learned about from your presentation. As with the outlining in the introduction, your conclusion should include the highlighted elements of your business plan.
Conclude with an attention-grabbing statement that is both summative and predictive. This is a statement that reflects upon the importance of establishing your business while simultaneously forecasting how the business world and your investors will benefit from the establishment and success of your business. For example you could say, "as you can see my business fills a major void in the current market and by filling this void it will bring more jobs to our area in addition to a profit to all investors lucky enough to get in on the ground floor."