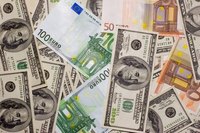 If a person or a business in Mexico needs to get some money to you in the United States, the money can actually be transferred to you. How you actually receive that money transfer from Mexico can vary. The method of receipt actually depends upon how the person in Mexico sent the money transfer to you. Once you are told how the money was transferred from Mexico, you can make plans to receive the transferred money accordingly.
Accept an international wire transfer into your bank account from Mexico if the sender has done a wire transfer. If this is the case, your bank will charge you a fee to accept the international wire transfer. The fee varies by bank.
Pick up your money transfer from Mexico at a money transfer location. For example, if the person in Mexico transferred you the money via Western Union then you can visit a Western Union location to receive the transfer. When a money transfer agent such as Western Union is used, the money is typically available within minutes.
Wait for the home delivery of your money transfer if the sender transferred the money via overnight delivery or other mail service. When money is transferred via courier service like this it can arrive either in the form of an international money order or a prepaid Visa debit card.
Check your email if the sender was transferring the money from Mexico via an online service, such as PayPal. If that is the case, you can receive the money transfer in your online account almost immediately.