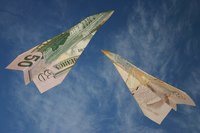 No longer are the days of being obligated to full service brokerage firms for your investment needs. As of 2009, the increase in popularity of online trading sites allows you to handle investment needs without having to pay a hefty fee to an investment broker. Now you can turn on your computer and, as long as the stock market is open, begin buying, selling or trading stocks. Full service brokerage firms are not obsolete. They are still available to assist you with the more complicated investments. However, it is good to know that you have options.
Open an online brokerage account. There are many online brokerage companies available to you, such as Scottrade, TradeKing and E*trade.
Submit your common stock shares, stock certificate, to the online brokerage company. Once your shareholder account is opened, a representative from the company will explain the proper steps to you. When your stock certificate is received, it will be deposited into your shareholder account.
Decide the price you want for your common stock shares.
Follow the guidelines, given to you by your online brokerage company, for listing common stock shares for sale. Once your stocks are purchased, it will take about three days for them to be transferred to the new owner and for you to receive your payment.