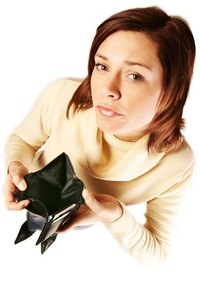 Almost everyone is confronted with financial problems during his lifetime. Whether these problems come from major college debt, bankruptcy or not being able to find a job that sustains your lifestyle, everyone needs to face his financial problems and deal with them appropriately. Ignoring financial problems only makes them worse; facing the issue won't always be the easiest thing to do, but in the long run, it can significantly improve your life and teach you about responsibility. According to the website Free Finance Advice, you should treat everything you do like an financial investment. This allows you to make good spending decisions as you work toward fixing your financial problems.
Things You'll Need
Look at your financial situation closely. According to Bank of America's money management website, it is important to determine the exact cause of financial alarm. Is your credit debt too high? Are your student loans breaking the bank? Have you spent too much money on a pricey vacation, or have you lost money in the stock market? Make a point to look at exactly why you're experiencing financial problems. Investigate what may be the cause and think about--even if the solution seems impossible--what the solution would be.

Seek help. Consult an organization that can help you make sense of the situation. Acknowledging the problem, much like with other issues in life, is a good first step. For example, if you have unconsolidated, sky-high student loans, visit your school's financial aid department and ask them about ways to consolidate your loans or how to reduce your monthly payback amount without increasing interest. Additionally, if your credit debt is very high, speak to your credit card company and ask about alternative payment plans. The simple act of just asking may provide some insight. For more information on paying debt, interest rates and financial solutions, see the website Free Financial Advice, or the Benefits, Grants, and Financial Aid website of the U.S. Government.

Start adjusting your spending habits. According to Free Financial Advice, you have to start living within your means. Once you've isolated the problem and looked into possible solutions, start to chip away at extra expenses that may be making the situation worse. For example, if you are spending a few hundred dollars per year on a gym membership, consider buying some gym tools for your home in lieu of the actual gym. While making sacrifices isn't always easy, they have to be considered.

Be honest with yourself. Don't spend money that you don't have, and explain to your family and friends that you're trying to catch up. Being honest with yourself lets you know what you can and can't do, and being honest with others lets them know not to pressure you into joining them on expensive trips or shopping excursions. While it may not be fun leaving activities behind for a while, you'll save valuable money in the long run--thereby allowing you to engage in the activities again in the future.