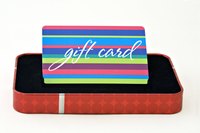 If you are looking for a creative gift for your husband, look no further than your craft box. Make a special gift coupon book for your husband, filled with customized coupons that are redeemable for gifts and favors. You can customize the coupons to reflect gifts offering meals, vacations and errands. Think of things your husband likes that you can make him, such as breakfast in bed, and the things he does not like, such as cleaning the garage, that you can do for him.
Things You'll Need
1 sheet red card stock
1 pair decorative scissors
5-10 sheets white card stock
1 pair of straight-edge scissors
Paint markers
Hole punch
Roll of decorative fabric ribbon
Fold your red piece of piece of card stock into thirds. You will need to turn your paper horizontally on your work space to do this.
Cut along the lines of the folds with decorative scissors of your choice. You will need two of the three pieces, which will serve as the front and back of the coupon booklet.
Cut along the straight edges of the sides of two of the red pieces so that all edges have a decorative border. Set aside the two red pieces.
Fold into thirds each piece of white card stock. Cut along the folds with a straight-edge pair of scissors.
Write out the "gifts" on each of the white pieces of paper with paint markers. You can be creative with this. Each coupon should be redeemable for a different activity, chore or favor. For example, you can use the following format: "This coupon can be redeemed for one gourmet, candle-lit dinner prepared by yours truly." Create as many coupons as you want.
Gather two coupons at a time and punch holes through the middle of the left-hand border with a hole puncher. Use the first coupon you punch as a template for the other ones so that all of the coupon holes line up.
Stack the white coupons together. Add the red front cover and back cover to the stack.
Cut a 6-inch strip of decorative ribbon with a pair of straight-edge scissors, and slip the string through the holes. Tie the string into a bow.
Embellish the front of the coupon book with paint markers and a title. Consider this title: "The BEST Gift Coupon Book for the BEST Husband in the World!"