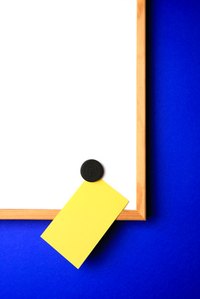 Whiteboards serve a variety of purposes in home, school and office settings. The transfer from old-fashioned blackboards with messy chalk to newer whiteboards with neat markers appeals to many people. Maintain a whiteboard to keep the writing surface clean. With regular cleaning, you can avoid damaging the white surface. Use the proper markers to write on a whiteboard, or you risk marring the whiteboard surface permanently.
Things You'll Need
Uncap the marker color of your choice and place the cap on the end of the marker while you use the marker.
Apply the tip of the marker to the dry eraser board firmly enough to make marks, yet not so firm that you crush the tip of the marker.
Write, draw figures or draw images onto the surface of the whiteboard with the marker. Change marker colors to make more engaging and interesting presentations on the whiteboard.
Erase mistakes or other marks with the dry erase marker eraser.
Recap the markers when you finish with them and store them horizontally.