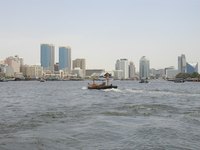 The United Arab Emirates are one of the fastest growing economic areas on earth, with the gem being the dynamic and notorious Dubai. Substantial opportunity for growth exists, and many businesses are opening branches or getting started, but, just like any other country, requirements and specifications must be met by any foreign company hoping to operate in the UAE. Fortunately, the UAE has laws designed to encourage investment and growth, so starting your company will be a snap.
Decide on the legal structure of the business you would like to open. The UAE allows joint ventures, limited liability companies and shareholding companies. Each has its own legal ramifications, but the law requires that LLCs and joint ventures be 51 percent owned by UAE nationals, and that shareholding companies have a majority of UAE residents on their boards, including the chairman. You may also open a company in one of the UAE's economic free zones, which allow 100 percent foreign ownership.
Apply for the necessary license. The UAE has three different types of business licenses: commercial, industrial and professional. Commercial licenses are intended for traders; industrial licenses are for manufacturing; and professional licenses are for services and craftsmen. Submit your application to the United Arab Emirates Economic Development Department (see References). Demonstrate in your application that you have followed all applicable rules regarding the type of company you wish to open. Generally, licenses are approved or rejected after four to six weeks.
Lease space to open your company. Ensure that the space you are using has been approved for your business, for example, if you have chosen a sole proprietorship, you must open your business in one of the UAE's economic free zones. Use local contractors to refurbish your space and construct new buildings; this is required by UAE law. Contact the local post office to inform officials of your location to guarantee mail delivery. Connect utilities as needed.