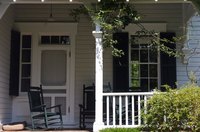 The typical repayment period for a mortgage is 30 years. However, this does not mean you must take all 30 years to pay it back. There are a few different ways to pay off your mortgage in 15 years. The faster you pay of your home. the less money you pay out towards interest and the sooner you'll never need to make another house payment again.
Sign up for a 15-year mortgage instead of a 30-year. You are going to pay nearly twice you do per month than with a 30-year mortgage, but the interest rate is lower so you are, in the end, going to save thousands of dollars in interest.
Refinance your home. Even if you signed up for a 30-year mortgage that doesn't mean you can't change your mind. Perhaps you have a new job that pays you a great deal more, or your spouse is now working. Ask the bank to look at your updated income information and, if it finds you can afford the higher payment, change you to a 15-year loan.
Pay more money each month. This reduces the amount you owe and the amount that goes to interest in future. Paying double the monthly rate allows you to pay off your mortgage payment in 15 years, or less, if you decide to pay more than double your current rate.