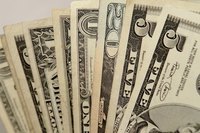 The average daily balance of an account is a term that indicates how much money is in an account on average on any given day over a specific period of time. Average daily balance is used to calculate interest rates on credit card accounts. You also might want to find the average daily balance of your checking account to obtain a broad sense of how much money you are keeping in the account.
Determine how many days you want to use as an examination period. The longer period you choose, the more likely you are to get an accurate picture of your average daily balance. For instance, you might have unusual activity in your account over a period of three days, whereas the activity of a month or two would give a more accurate idea of your typical transactions.
Record the balance on an account every day for a set period of time. For instance, you might use an online checking program to record the balance on a checking account each day for an entire month.
Divide the sum of the daily balances by the number of days in the period to find the average daily balance. For instance, if the sum was $30,000 and the number of days was 30, divide 30,000 by 30 to get an average daily balance of $1,000.