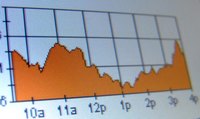 People sometimes wrongly assume that investing in the stock market requires thousands of dollars. In fact, you can get started with just a few hundred dollars if you choose the right investments. Investing small amounts of money in the stock market can pay big dividends over time, since the market is by its very nature a long-term investment. By choosing the right mutual fund investments and setting up an automatic monthly transfer from your bank account, you can accumulate wealth over time and watch your nest egg grow.
Things You'll Need
Request a prospectus from several large no-load mutual fund companies. Look for companies with low fees and expenses--Vanguard, TIAA-CREF and Charles Schwab are all known for their low fee funds. Get a prospectus for the index funds the comanies offer--these index funds do not attempt to beat the market. Instead they simply purchase all of the stocks in a given index. This means lower fees, since there are no money managers to pay and no high trading expenses.
Review the prospectus carefully, especially the charges and expenses for the fund. Some index funds have expense ratios as low as 0.20 percent, so use that as your benchmark.
Determine the minimum initial investment for each fund you are considering and make sure you have the funds to meet that minimum. An IRA account often has a lower minimum than a traditional one, so consider setting up an IRA if your cash is limited. With an IRA you could get a tax break as well.
Complete the application in full. Include your name, Social Security number, address and the names of the funds you want to use. Write a check for your initial investment, and set up an automatic monthly investment from your bank account directly into the mutual fund. Some mutual fund families waive their initial investment minimums if you agree to set up monthly transfers.
Write your bank routing and account numbers on the application (double check to make sure they are correct). Sign and date the application and send it to the address listed on the form. Be sure to send the application to the right address--some mutual fund families use a separate address for overnight mail.