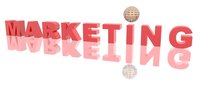 The most challenging aspect of owning a small business is the marketing. It doesn't matter how great your product or service is–if you can't reach your customers with a marketing message they relate to–your business will fail. Service-based businesses can be more challenging to advertise than a business that sells a product, since you are basically marketing your own skills, abilities and knowledge. Know exactly who your customers are so you can accurately describe how your service will benefit them.
Know your customers' needs and wants. The more you know about your customers, the better your marketing will be. Your marketing message should demonstrate how your service fulfills a need or want for your customer.
Describe your service in terms of benefits to your customer rather than the features of the service. "Quick turnaround time" is a feature of the service, while "saves you two hours every day" is an example of a service benefit.
Choose to advertise in media that caters to your target customer. If you provide a service for women between the ages of 65 and 85, it doesn't make sense to advertise on a website targeting males between the ages of 13 and 19.
Measure the results of all advertising you do. If you can't tell how many customers came from your marketing efforts, how do you know whether it was successful? Internet marketing can be measured through the use of marketing tools and tracking links, like Google Analytics. Regardless of your chosen method of advertising, make sure you set it up with a way to track results so you can determine whether the advertisement is worth its cost.
Create urgency in your marketing. You've probably experienced an "urgent" marketing message before, which may have caused you to pull out your credit card and make the purchase right away. Creating urgency can be done with limited-time offers and promotions that are too good to pass up. Just make sure you follow through on whatever time limit you offer. If you give customers 30 days to take advantage of a discount or bonus offer–make sure that at the end of those 30 days you stop offering the discount or bonus.