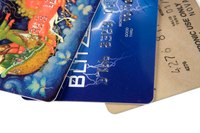 Transferring a high-interest credit card balance to a card with a lower interest rate can reduce your monthly payment by helping you save on finance charges. You can use the savings to pay off more of your balance or to pay down other debt. You can also consolidate debt by transferring high-interest balances from several cards to just one lower-interest rate card. This would allow you to close the other high-interest-rate credit-card accounts and save on annual membership fees.
Confirm the interest rate on the high-interest credit card by checking your statement or calling your card company.
Select a low-interest credit card that you already own or apply for a card. Make sure there is a big enough gap in the interest rates to justify the balance transfer. Speak with the card issuer to fully understand the terms and conditions of the transfer. For example, according to the website Bank Rate, some credit-card issuers will greatly increase the interest rate on your credit card after a balance transfer if you miss a payment. The site describes how the interest rate on one card increased from 9.9 percent to 21.99 percent after one tardy payment. Also ask about any fees associated with the transfer.
Call your credit-card company to make the balance transfer. Simply provide the customer service representative with the account number of the credit card that you want paid. The representative will confirm your identity and that your credit line is large enough to accommodate the request. Then the balance transfer will be initiated electronically, with a payment sent to the higher-interest-rate card. If you are applying for a card, you can include balance-transfer information on the application.
Wait a few days and then check with both credit-card companies to confirm that the transaction was made.