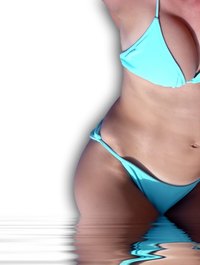 One of the most sensitive and difficult areas for women to remove hair from is the bikini line. Whether you'll be donning a swim suit for beach season, a special event or a warm vacation getaway, there are many methods that will remove hair, including shaving, waxing, using hair removal creams, or laser treatments.
Things You'll Need
Shaving
Wet the area with water. Apply shaving cream to the area and rub it until it foams up.
With the razor, shave the area in the direction of the hair growth.
Rinse the area with water. This is one of the least preferred methods of hair removal as it may cause cuts, bumps and irritation, and shaving with the grain doesn't get close enough to the skin. If you have any cuts from shaving, use a cold cloth and apply pressure to the cut until the bleeding stops.
Depilatory Cream
Read the directions on the hair removal cream.
Apply a thick layer of cream directly to the hair, per the label's instructions.
Wait the required time, per the label's instructions, before removing the cream. Rinse the cream and hair away with water.
Hot Wax
Warm the wax according to the label's instructions.
Apply the wax to the skin in the direction of the hair growth using the applicator provided.
Put a strip of linen on top, press down against the wax and give it a rub to help it stick. Pull the hair off quickly in the opposite direction of hair growth. This method takes some courage, as it can often be quite painful.
Professional Removal
Book an appointment at a local salon or spa for a professional wax service. This type of wax removal may be quicker and less painful, based on the esthetician's experience.
Book an appointment with a dermatologist if you are looking for a more permanent method of hair removal. Laser treatments use a beam of light to destroy the hair follicle. Talk to the dermatologist to understand how many treatments would be needed.
Follow any aftercare instructions required after any professional hair removal service.